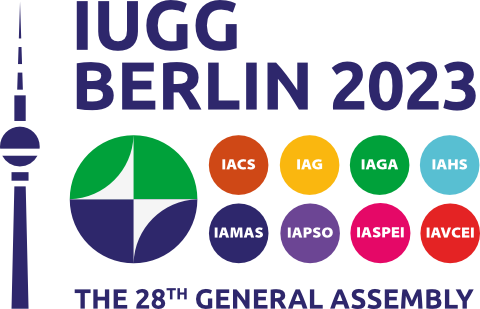 INFORMATION FOR CONVENERS AND CO-CONVENERS
1. General
1.1 Contact
For all submission- and program-related inquiries, you can contact the IUGG 2023 Secretariat at abstracts@iugg2023berlin.org.
All official communication from the Secretariat regarding the program and registration is accessible in the IUGG 2023 Portal in the Communication Log.
1.2 IUGG 2023 Portal
The IUGG 2023 Portal is also the central hub from which you will gain access to all important forms and information (registration, submission, evaluation, program creation, interactive program).
Those who were involved in IUGG 2015 and/or IUGG 2019 can use their accounts from previous years to log in. Those who were not involved had their accounts created by the Secretariat.
Username: your email adress
Password: can be requested on the portal login page using the Retrieve Forgotten Password box
Please try to log in as soon as possible, check your account, and update it if necessary using the Change Account Details button.
1.3 Timeline
21 February: Submission deadline
24 February – 6 March: Evaluation (Rejection/Acceptance)
10 March – 15 March: Moving of abstracts & Review of moved abstracts (conveners only)
17 March: Notifications of Rejection/Acceptance
20 April – 2 May: Program building (conveners only)
2. Submission
The submission is open until 21 February 2023 and authors can both submit and edit their submitted abstracts online by this deadline. If your symposium has any solicited speakers, please, make sure they all submit their abstracts before 21 February 2023 as well.
Conveners and co-conveners can monitor the number of submitted abstracts using the reports accessible from the IUGG 2023 Portal (on the bottom of the page).
3. Evaluation
The abstract evaluation will be taking place online from 24 February to 6 March 2023.
The evaluation forms will be accessible from the IUGG 2023 Portal and detailed evaluation guidelines will be sent to you before the evaluation opens.
In this phase, final presentation type of the abstracts will not be decided. Instead, the co-conveners will provide feedback about abstracts to their conveners and conveners will then accept/reject the abstract, or suggest moving it to a different symposium.
4. Moving abstracts between symposia (conveners only)
Abstracts suggested for moving will be moved for review to the suggested symposium and conveners of such symposia notified. By logging into the evaluation platform they will be able to either accept the abstract or suggest even different symposium for it.
5. Program creation (conveners only)
Abstract authors will receive their acceptance notifications on 17 March 2023 and will have until 6 April 2023 to register.
From 20 April to 2 May 2023 conveners will use the online program creation tool to move abstracts of already registered authors to session/poster session slots in the program. The slots will be assigned to your symposium by the SPC. Co-conveners' feedback from the evaluation will be visible there too. Detailed program creation guidelines will be sent to conveners before the allocation opens.

IUGG 2023 Secretariat: C-IN, 5. kvetna 65, 140 21 Prague 4, CZE | tel.: +420 296 219 600
Copyright © 2020 c-in.eu | info@c-in.eu | Legal Notice