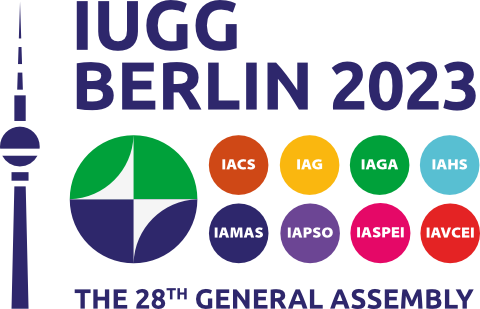 POSTER PRESENTATION GUIDELINES
Poster Schedule
Each poster will be displayed for two days in the Poster Area in Hall B (Level 2).
The first day is designated as a presentation day on which the authors are expected to be present at their poster during the poster session.
Please check your mailbox or communication log in the IUGG Portal, for Poster Presentation Guidelines email for more personalized information, as there are a few exceptions to the rule above.​
The attendees will have access to the Poster Area at any time within the opening hours.
Poster Sessions Schedule
| | |
| --- | --- |
| Wednesday, 12 July | 17:00 – 18:30 |
| Friday, 14 July | 17:00 – 18:30 |
| Saturday, 15 July | 17:00 – 18:30 |
| Sunday, 16 July | 17:00 – 18:30 |
| Monday, 17 July | 17:00 – 18:30 |
| Tuesday, 18 July | 17:00 – 18:30 |
Poster Desk Opening Hours
| | |
| --- | --- |
| 12 – 19 July | 08:30 – 18:30 |
Poster Dimensions & Logistics
It is important to prepare the correct poster size which is A0 size in the portrait orientation, using the following dimensions:
width: 841 mm (84,1 cm)
height: 1189 mm (118,9 cm)
Mounting your poster
Posters must be mounted before 10:00 on the first poster day. Mounting material will be provided by the organizers at the Poster Desk located at the entrance to Hall B.
Please ensure that you mount your poster on the board corresponding to the last three digits of your poster number (sent via e-mail or available in the interactive program). 
Poster Area floorplan can be found here.
If the posters are made of different material than paper, (e.g. cloth), organizers do not guarantee that the posters will remain in place.
We advise you to watch an instructional video on how to properly use the stickers used for mounting the posters HERE.​​
Removing your poster
All posters must be removed by the owner of the poster by the end of the second poster day by 19:00.
​All posters left behind will be removed and disposed of.
Poster Printing Service​
The poster printing service is available for 69 EUR per poster. You can order the poster printing HERE. Kindly ensure to select the A0 format in the portrait orientation. ​
Late/express orders will have a late order charge (the shop will show new prices after 10 July). Orders done until 12:00 each day, can be picked up at the Poster Desk the next day from 8:30. Deliveries on the weekend are not possible.
Printed posters can be picked up at the Poster Desk. The delegates will receive the confirmation once the order is placed.

IUGG 2023 Secretariat: C-IN, 5. kvetna 65, 140 21 Prague 4, CZE | tel.: +420 296 219 600
Copyright © 2020 c-in.eu | info@c-in.eu | Legal Notice